Description of the activity
Horticulture is the science and art of producing, improving, marketing and using fruits, vegetables and flowers and ornamental plants. Production and consumption of high-quality fruits and vegetables allows us to maintain a healthy, balanced daily diet. Flowers and ornamental plants enrich our homes and communities, and contribute to our sense of well-being. Horticulture impacts our lives on a daily basis by providing nutritious fruits and vegetables, offering visual enjoyment, and promoting recreational activities.

In 2016, the value of New Zealand horticultural products exceeded $8 billion. New Zealand exported over $5 billion worth of horticultural products (including wine). 4651 Efficient production systems, new cultivatars and strong branding and marketing all contribute to the industry's success.
Arable Farming
The arable sector produces grains (mainly wheat, barley, oats and maize), predominantly for domestic consumption. New Zealand produces approximately 1 million tonnes of grain. About 300-450,000 tonnes of grain and 1 million tonnes of palm kernel expeller are imported.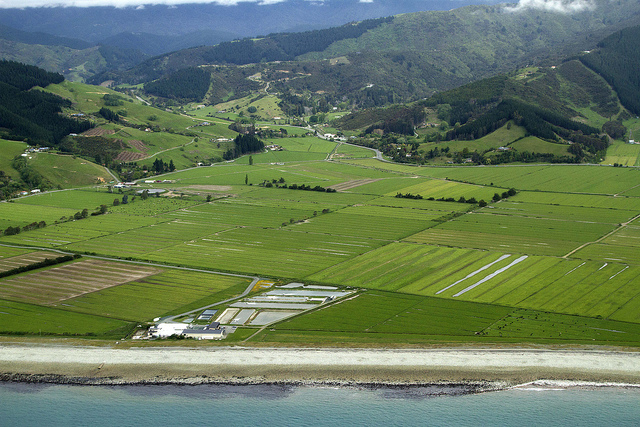 Vegetables & Fruits
The main fruits grown in New Zealand are kiwifruit, apples, berry fruit, summer fruit and avocados. Vegetable production occurs throughout New Zealand, but it is concentrated in Pukekohe, Waikato, Gisborne, Hawke's Bay, Manawatu, Wanganui and Canterbury. Over 90% of vegetable production is for the domestic market. Key crops include leafy greens, tomatoes, potatoes, cabbage, carrots, kumara, lettuce, broccoli and cauliflower. Onions and squash are the exceptions to the general rule with 90% being exported. 4655

Wine & Grapes
More than $1.5 billion of wine is exported each year. Around a third is exported to North America, with another third to the UK and Europe. The remaining third is supplied to the domestic market. 4652 There are just over 700 wineries in New Zealand from Northland to Otago. Marlborough is the dominant winegrowing region and is well known for wines made from the grape varietal Sauvignon Blanc. Other important wine growing regions are Auckland, Gisborne, Wairarapa, Nelson, Canterbury/Waipara, and Central Otago.

Bees & Honey
Bees are critical to New Zealand's agricultural sector as they pollinate around one third of our food sources. New Zealand produces many different types of honey (clover, manuka, thyme and other varietals) as well as other bee products.19,885 tonnes of honey are produced from 684,000 hives. 4653 Around half of the honey produced in New Zealand is exported to 50 countries, with a value of $315 million. 4654

Organic Agriculture
An increasing number of farmers and growers across different sectors have undergone organic certification. New Zealand has four main organic certification agencies:
http://www.freshfacts.co.nz/

http://www.freshfacts.co.nz/files/freshfacts-2016.pdf

http://www.freshfacts.co.nz/#home

http://www.freshfacts.co.nz/#home

http://www.freshfacts.co.nz/#home
Last updated at 7:14PM on February 1, 2018