Grasslands
New Zealand's indigenous grasslands have been, and remain, a significant component of this country's indigenous plant cover and ecology, at around 13%. 5058 Over the last 10,000 years, during the Holocene period, grasslands formed a mosaic across many parts of the country, interspersed with areas of woody vegetation. The pattern varied according to elevation, topography, slope, aspect and disturbance. Grasslands mainly grew in areas that were colder or drier than those which supported shrubland. Some birds and invertebrates have also adapted over thousands of years to live in such cold and dry habitats.
The use of fire by Māori reduced the extent of forest cover on the main islands from about 80 to around 50 percent. 5059 Indigenous grasslands reached their greatest extent in the early 1800s, after Māori fires had burned much of the forest in the drier eastern regions, and before Europeans settled in New Zealand. 5060
At the time of first European settlement, the total extent of indigenous grasslands in New Zealand is assumed to have been around 30 percent of the total land area. 5061 Tussock grasslands dominated the low-alpine zone above the natural treeline and some valley floors in the forested regions with higher soil moisture levels. However, they were most extensive in the rain-shadow region to the east of the Southern Alps. 5062
Fire has been used extensively to facilitate movement of grazing animals and to convert tussock grassland into improved pasture. Ongoing grazing has degraded indigenous grassland communities. The conversion of tussock land has also brought exotic pasture grasses and weed species to these areas, many of which threaten the regeneration of indigenous species.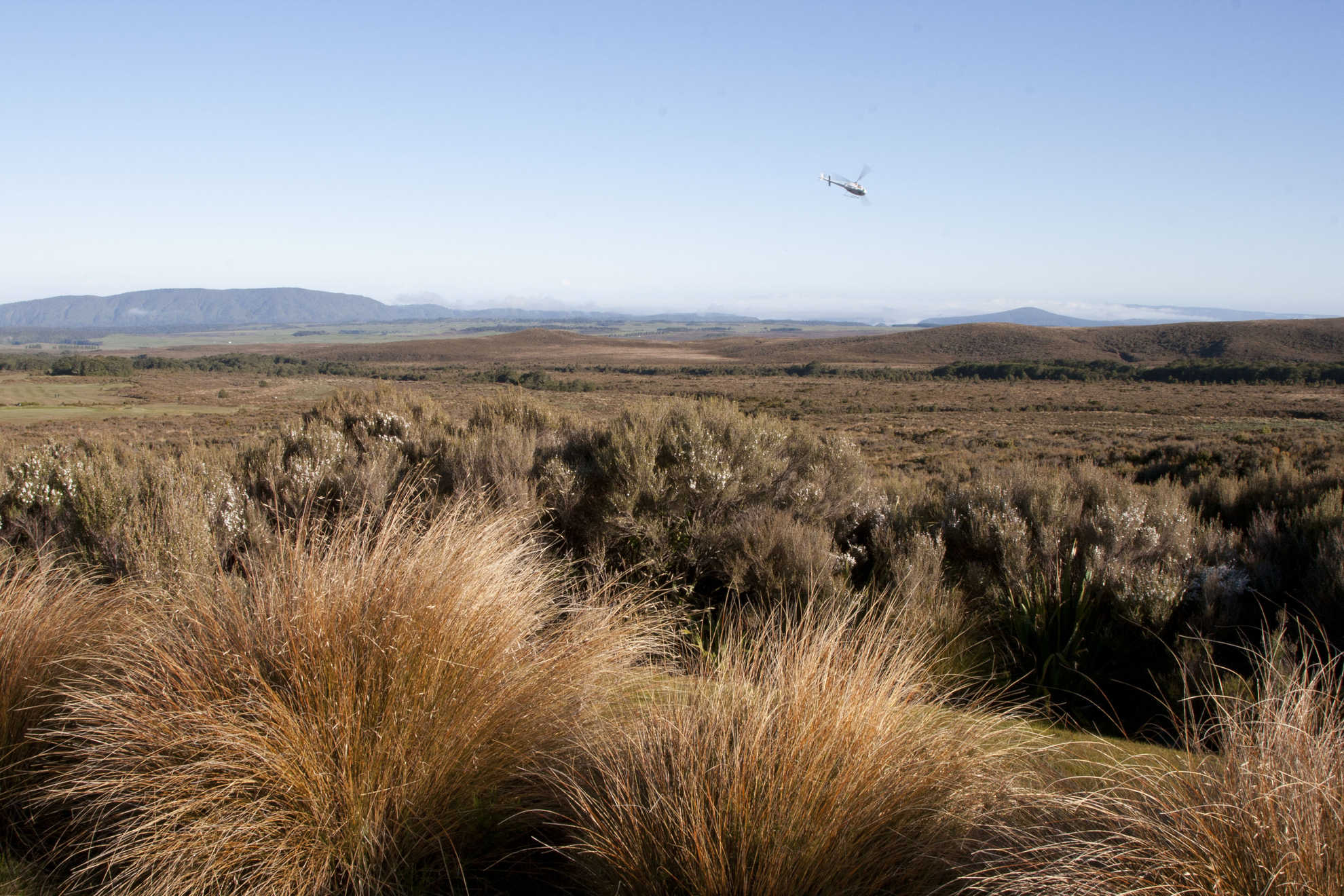 There are two broad categories of indigenous tussock grasslands:
Type

Extent

Grasses

Short Tussock Grasslands

- Pre-1900s short tussock grassland covered considerable areas of the eastern South Island from sea level up to between 800 and 900 metres high
- In many places it invaded areas where forest had been cleared, and tall tussock grassland had been modified by grazing and burning
- Large areas also occur to the east of the North Island's central plateau

- The dominant plant species in short tussock grasslands are usually Festuca novae-zelandiae (hard tussock), Poa colensoi (blue tussock), and/or Poa cita (silver tussock). Many other grass species are common in these plant communities.
- Hard tussock is the most common. It is deep rooted and dominant on steep, exposed slopes.
- Blue tussock grows with the other species.
- Silver tussock is shallow rooted and grows in more fertile conditions.

Tall Tussock Grasslands

- Tall tussock communities are found on the central plateau and southwards throughout the high country of both the North and South Islands, sometimes above forest
- At lower levels tall tussock may be found on coastal hills, as on Banks Peninsula, or on the Southland plains

- Tall tussock grassland is dominated by one or another of the grasses in the genus Chionochloa. These grasses are usually a metre or more high and yellow, green-brown or red-brown in appearance.
- Such grasslands are generally found todays at higher altitudes and in wetter conditions.
- The main tall tussock grassland types are 'snow tussock grassland' (dominated by Chionochloa rigida), which occur above the current tree line, and 'copper tussock grasslands' which are found mainly below the current tree line and are dominated by varieties of C. rubra. The alpine zone of the South Island supports a variety of other tall tussock species and grassland types.
Indigenous grasses
Species that have a 'tussock' growth habit, where stems grow fanning up and outward from a central bunch, dominate tussock grassland. The tight clustering of the leaves may have evolved to protect new growth from frost. Tussock leaves grow from the base, not the tip, which means that new growth is protected both by surrounding stems (or tillers) and the leaf litter that encircles each plant. Tussock grasslands are known to retain water well, meaning these grasses can play an important role in reducing flooding within the catchment. These grasses are also valuable for delivering secure water supplies to urban areas as they sustain high water yields through reduced transpiration. 5063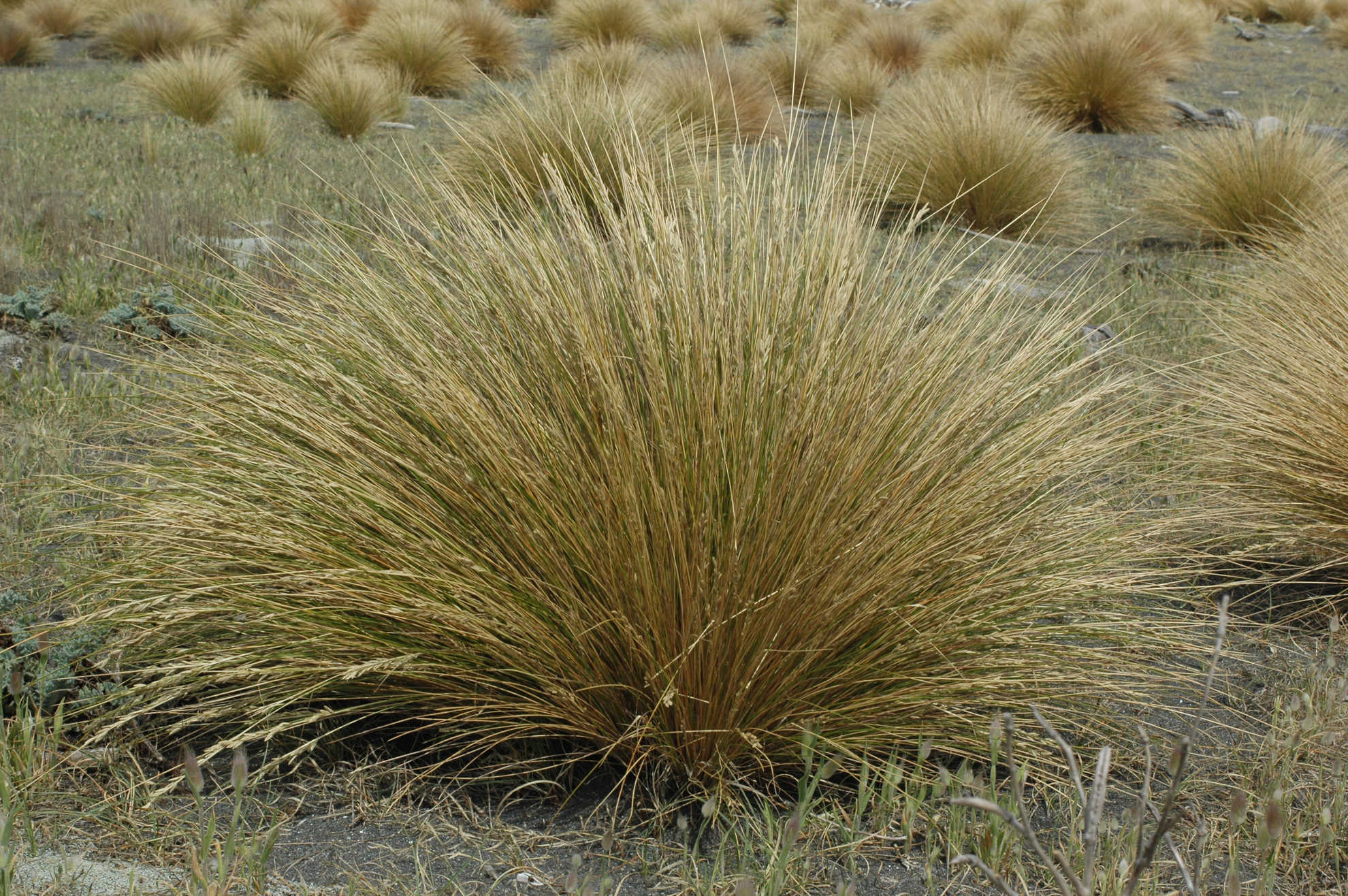 Other plants
In addition to the indigenous grasses, this ecosystem type supports a wide range of indigenous plants, some of which are listed as threatened species. The threatened upland shrub Leonohebe cupressoides (formally Hebe cupressoides), the endangered Hector's tree daisy (Olearia hectorii), indigenous Peraxilla mistletoes, and the parasitic mistletoe Tupeia antarctica (albeit on scattered shrubs) all live in grasslands. There are also a large number of indigenous grasses and other herbaceous plants that live within these plant communities.
Birds
There are a number of bird species that rely on indigenous grassland communities for their survival. The endangered Haast Tokoeka kiwi lives in the low-alpine grassland found in the South Island. Tiny rock wrens, from the ancient New Zealand wren family, make nests from tussock grass. New Zealand pipits also prefer tussock grasslands.
Lizards
Grasslands are an important habitat for indigenous lizard species. The South Island's sub-alpine tussocklands are a centre for lizard diversity. 5064 They have various roles within this ecosystem; including pollination, seed dispersal, and acting both as predators and prey. The critically endangered Grand and Otago skinks are two of New Zealand's most distinctive lizards. 5065 They are found in small pockets around Otago, living in very specific habitats, found in the crevices of large outcrops of schist. These two lizards are particularly well adapted to the cold upland tussock communities.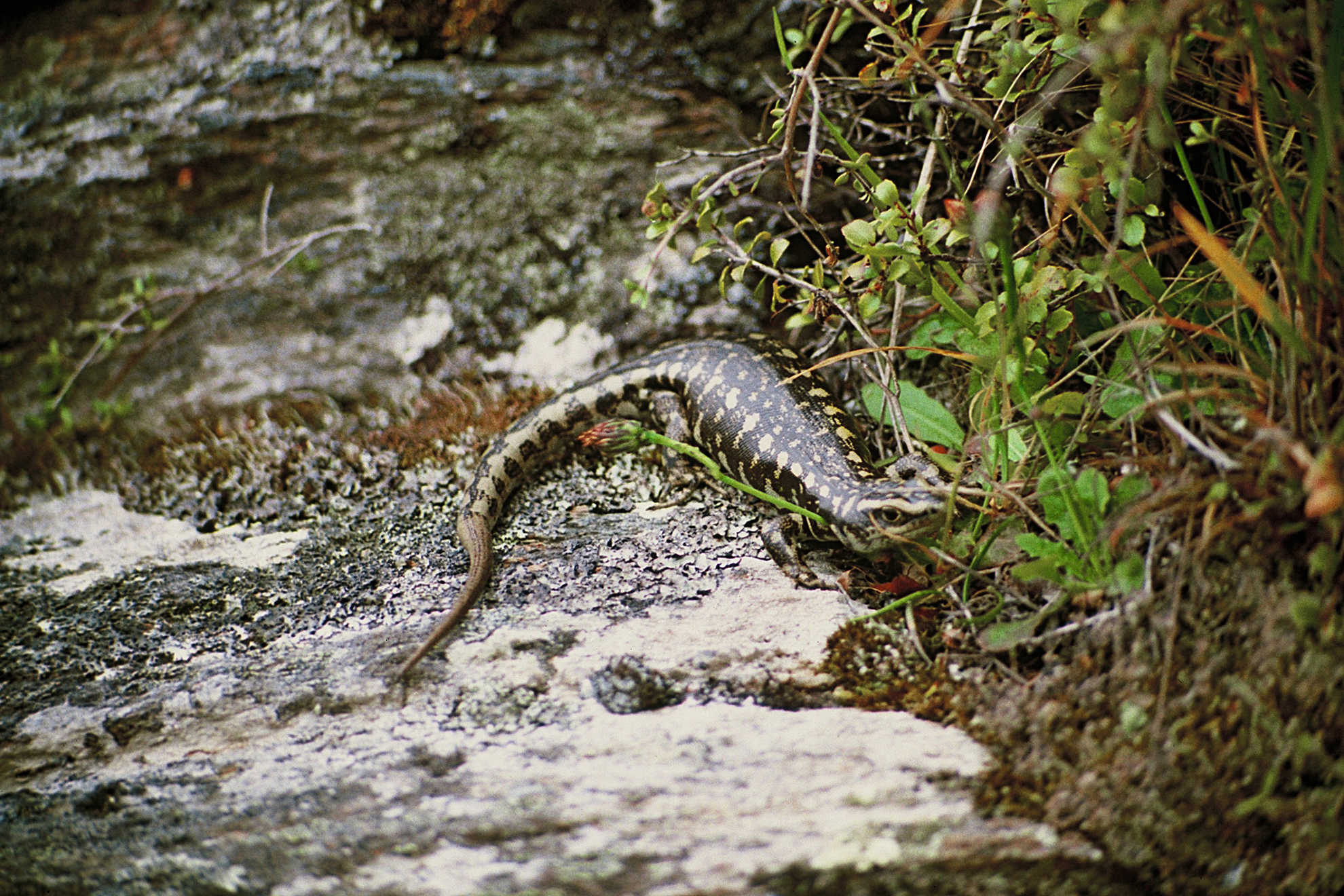 Invertebrates
Often the species that live within the soil are the least studied but they are just as important as those described above. Invertebrates are an integral part of the ecosystem, as they provide food for many of New Zealand's indigenous birds, and help to maintain soil fertility.
What we do know is that there are litter-dwelling invertebrates, such as mites, as well as miriapods (such as centipedes) that all make their homes in these environments. Larger insects are also present, such as flies and midges (from the order Diptera) and bugs (from the order Hemiptera). Terrestrial stoneflies (from the order Plecoptera) enjoy the damp litter that the South Island's indigenous grasslands offer. 5066 There are 15 indigenous species of grasshopper in New Zealand, most of which spend their lives in alpine zone grasslands. Also found are the large flightless tussock weevils (from the genus Lyperobius). Slugs and snails commonly inhabit these ecosystems. The earthworm family, Megascolecidae, lives in indigenous tussock grasslands but only in areas where the vegetation and soil remains undisturbed. 5067
The range and life cycle of these earthworms are not well understood, and little is known about the impact that the destruction of grasslands has on such subsoil species. A large number of the 48 identified indigenous earthworms are found in these areas, including species of Rhododrilusin in the central North Island and Maoridrilus in the east of the South Island. 5068
Threats
An assessment of the conservation status of New Zealand's indigenous grasslands, undertaken in 2002, indicated that just less than 45 per cent of those present in 1840 still persisted, albeit in a variously modified or degraded condition. 5069 Tall tussock grassland was identified in the Environment New Zealand 2007 report as one of the indigenous land cover types that has continued to be modified since 1997. It is believed to be one of the five vegetation types to have suffered the greatest loss of cover.
The changes in coverage of various grassland types are outlined below. The extent of each grassland type varies largely with elevation and climate. The drier, lower-elevation grasslands have suffered the greatest reduction. The extent of formal protection of the remaining areas also varies considerably. Protection is greatest in the South Island wet western region. The North Island and eastern South Island areas, not used for extensive pastoral farming, are less protected.
The following table shows change so the extent of indigenous grasslands since 1840: 1961

| Type | Percentage of pre-1840 remaining | Percentage of this area formally protected |
| --- | --- | --- |
| Short-tussock grassland (montane to subalpine) | 25% | 3% |
| Tall red-copper tussock grassland (montane to subalpine) | 20% | 16% |
| Tall snow tussock grasslands (montane to subalpine) | 84% | 31% |
| Tall snow tussock grassland (above the climatic treeline in the low alpine zone) | 98% | 50% |
| Lowland sward grassland | 2% | Very scatter remnants persist |
Mark A and B McLennan, 2005,
Last updated at 9:57AM on April 11, 2018