Petroleum
Today, oil and gas are an essential part of this country's energy mix. They are used in transportation, production, manufacturing, construction and domestic and international travel and leisure. Oil is now New Zealand's fourth-largest merchandise export (after dairy, meat and wood), with a value in 2011 of nearly NZ$2.2 billion, 2155 despite the fact that production is limited to a relatively small number of fields and only one petroleum basin. 2156
The burning of oil and gas creates greenhouse gas emissions contributing to global climate change. For this reason, some argue that no further oil and gas exploration should be undertaken in New Zealand or elsewhere. This section focuses on the environmental impacts arising from oil and gas exploration and mining activity itself. Climate change is addressed elsewhere on this website.
Oil and gas in the marine environment
New Zealand has rights to exploit oil and gas over more than 5.7 million km2 of seabed, equivalent in size to the European Union, the North Sea and a quarter of the Mediterranean, combined. 2157 There are multiple sedimentary basins with known or potential hydrocarbons onshore and, underlying the extensive continental shelf of New Zealand, as well as several deepwater basins within its EEZ. 2158

While New Zealand has multiple basins with hydrocarbon potential, only one, the Taranaki Basin, is currently producing. Over 400 onshore and offshore exploration and production wells have been drilled to date in the Taranaki Basin and there are currently seven producing installations. 2159 No wells have yet been drilled beyond the shelf edge.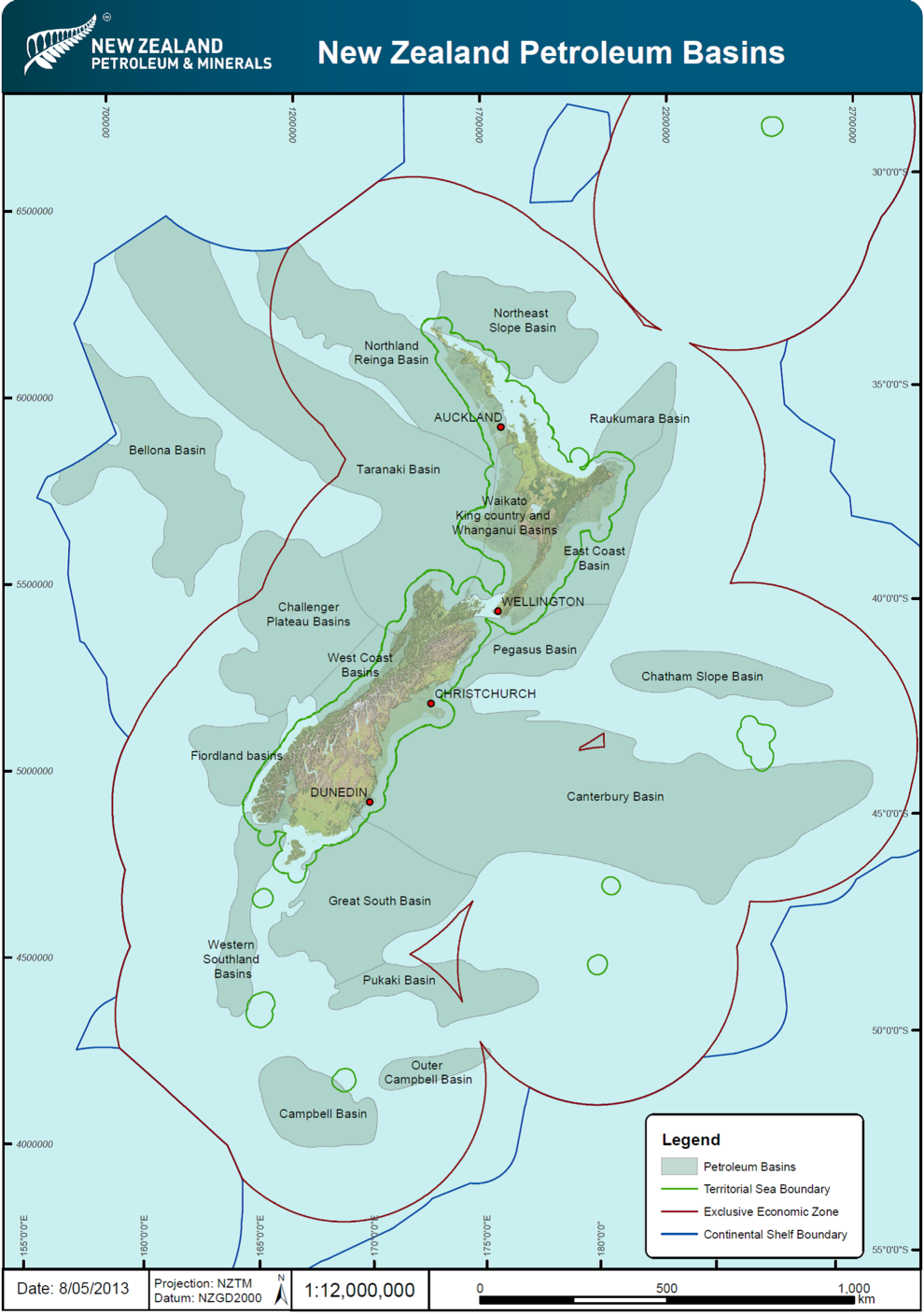 There are four other basins in the country which are known to hold petroleum – the Reinga-Northland Basin, East Coast Basin, Canterbury Basin and Great South Basin. However, New Zealand has at least 14 sedimentary basins of various ages with hydrocarbon potential. 2160
Most of New Zealand's marine area has not been explored, but our knowledge of its geology suggests that over 20 per cent of it has the potential to hold petroleum resources. 2161 Currently, just over 30 offshore exploration permits have been issued by New Zealand Petroleum and Minerals. 2162 With the increase in petroleum prices, and the decline in existing fields, there has been increasing interest in petroleum exploration within New Zealand's marine environment over the past decade. 2163

Ministry of Business, Innovation and Employment, 2012

Ministry of Business, Innovation and Employment, 2012

http://www.nzpam.govt.nz/cms/petroleum/petroleum-basins

http://www.nzpam.govt.nz/cms/petroleum/petroleum-basins

http://www.nzpam.govt.nz/cms/petroleum/petroleum-basins

http://www.nzpam.govt.nz/cms/pdf-library/petroleum-publications/nz-petroleum-basins-part-one

Ministry for the Environment, 2007
Last updated at 1:58PM on February 25, 2015