Case Study - International recommendations for improving well incident prevention, intervention and response capability
Following a number of international well accidents the International Association of Oil and Gas Producers (OGP) established the Global Industry Response Group (GIRG). Their role was to learn from the accidents that had happened and identify recommendations for applying these learnings within the industry. The GIRG was divided into three core areas: 2246

Prevention: developing better capabilities and practice in well engineering design and well operations management
Intervention: improving well capping response readiness in the event of an incident and further study into the need for, and feasibility of, global containment solutions
Response: delivering effective and fit-for-purpose oil spill response preparedness and capability
In May 2011 the GIRG released its report. There were a number of key findings outlined below. Integral to this was the setting up of three groups: 2247

A Wells Expert Committee tasked with looking at all the data on well incident reports, and identifying opportunities for developing consistent standards and promoting good practice.
The Subsea Well Response Project (which includes a group of nine major oil companies) with the purpose of designing a capping toolbox, designing additional hardware and looking at global containment solutions.
A Joint Industry Project to develop new recommended practices, improve understanding of oil spill response tools and methodologies and enhance co-ordination between key stakeholders internationally.
The key findings from the GIRG investigation and recommendations are outlined in the figures below.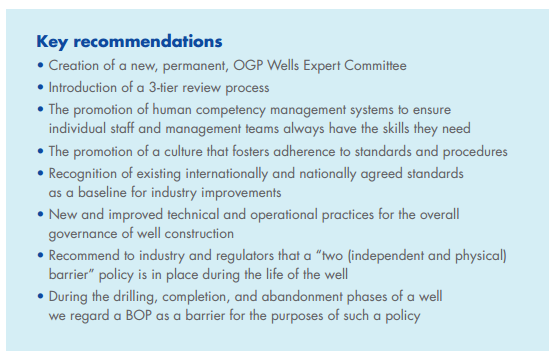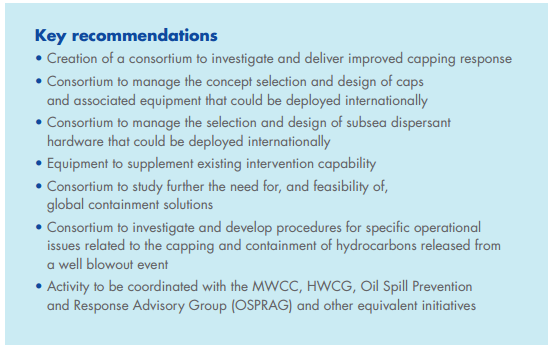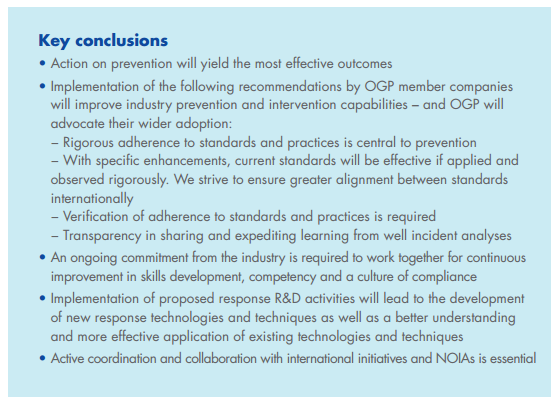 http://www.ogp.org.uk/global-insight/well-safety/

http://www.ogp.org.uk/global-insight/well-safety/
Last updated at 1:41PM on February 25, 2015